Tailored for maintenance needs
AGCO Connect provides dealers with a powerful tool to re-define the customer experience. Remotely viewing fault codes and machine data with in-house technical expertise enables greater insight and proactivity.
Re-defining the customer experience
Optimize
Help customers optimize machine set-up
Identify operator training opportunities
Remotely monitor to anticipate potential faults and service requirements
Coordinate
Start trouble shooting remotely and have the correct parts available to improve first time fix and customer satisfaction
Use the service counter to plan ahead to manage service center demand and customer downtime
Seamlessly Connect
Use data to match products to customer requirements
Increase customer satisfaction and strengthen the dealer-customer relationship
AGCO Connect can be used to identify issues rapidly, making maintenance work easier and faster.
Connect is a vital addition to the service team and will easily integrate into daily work practices. By using the service centre Dashboard feature, the service partner can quickly get an overview of the entire connected fleet to check if there are any issues needing attention and which machines will soon need servicing, putting you in control. The Hub view lets you start investigating machine history and service requirements, and you can even manage workflow by creating a worklist and checking them when the work is done. This makes it easy to know at a glance what work is outstanding.
With new focus and insight, you can tailor your service to your customer's needs, making their lives easier and your business stronger.
A personalized service tailored to customer needs
With Connect you can now offer condition monitoring and consultation as a service. You will be notified immediately if there is a critical alert, you can analyze near real time and historic data to support service investigation and you can plan ahead efficiently for your customer and your service center.
Features for dealers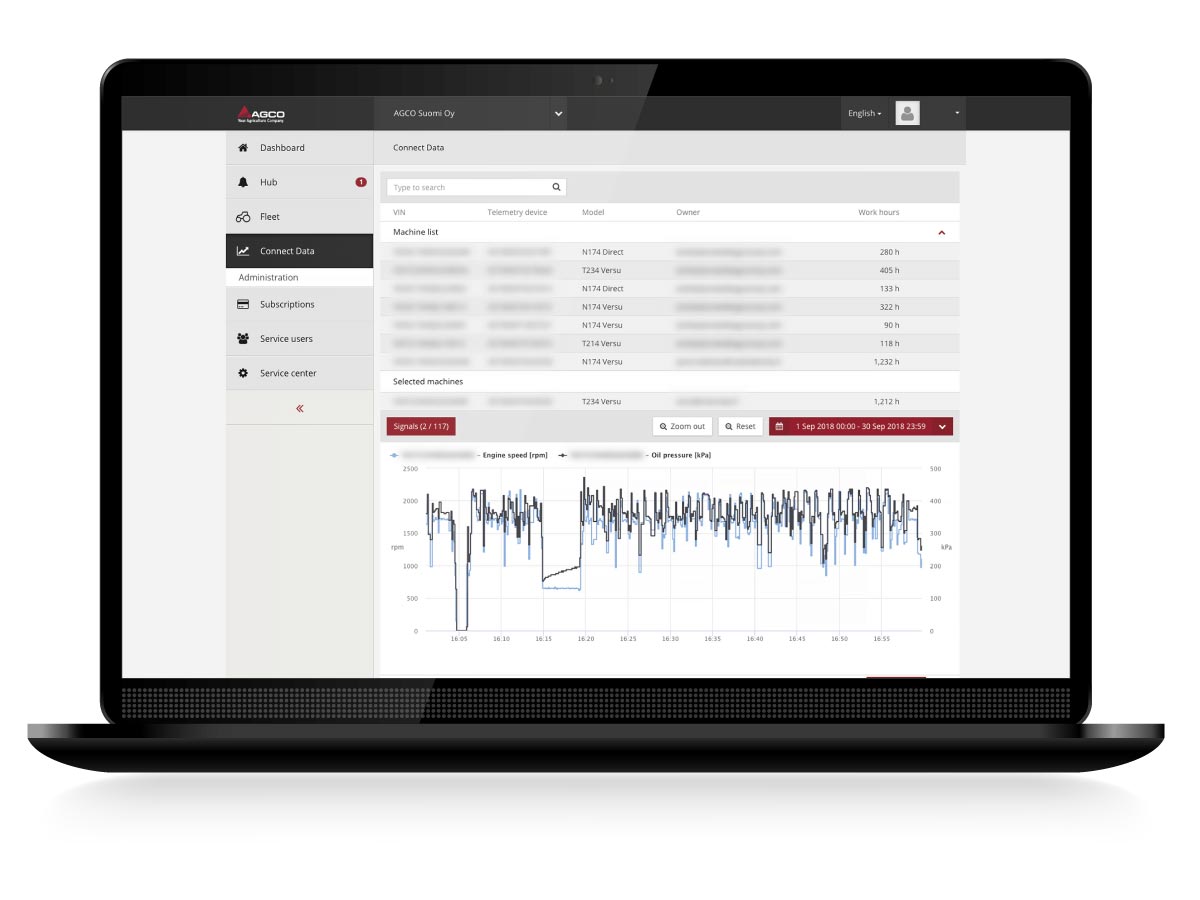 | Feature | Web App | Mobile App |
| --- | --- | --- |
| Service Dashboard | | |
| Daily machine performance data | | |
| Number and severity of fault codes | | |
| Engine and service hour counter with in-app alerts | | |
| Service Hub | | |
| Connect data analysis | | |
| Current position and route traveled | | |
| Owner and machine details | | |
| Subscription management | | |
| Service centre and user administration | | |
| Individual service user accounts | | |